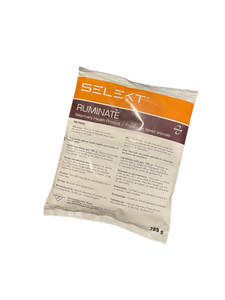 For in-appetent cows. Based on SELEKT CalPlus, but with potassium to compensate for anorexia, and gentian root to stimulate the appetite. Provides vital nutrients and supports the rumen flora.
Key Points
• Contains calcium propionate, which will correct hypocalcemia and provide a glycogenic energy substrate.
• Contains potassium to reverse hypokalemia, which is a common finding in in-appetent cows and cows affected by a displaced abomasum.
• SELEKT RUMINATE contains 50 g of yeast in each sachet to promote the multiplication of cellulolytic bacteria and the utilization of lactate, and reduce the production of lactate.
• Contains magnesium to stimulate cellulose digestion, which will in turn increase appetite.
• There are anecdotal reports that gentian root, which is included in SELEKT RUMINATE,
promotes appetite.
**Case of 12**
For best results, use with our Selekt Pump, Drencher, Collector, as well as our popular mini drencher. !