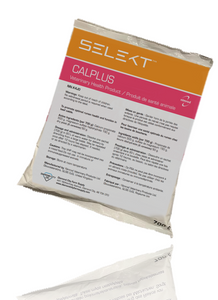 For reduction of the risk of milk fever, subclinical hypocalcemia and ketosis in freshly calved cows. Also provides rehydration. Contains no potassium so does not block absorption of magnesium. Contains dry yeast to stabilize the rumen flora.
Key Points
• SELEKT CALPLUS provides 108 g of calcium per dose in the form of calcium propionate, which contributes to serum calcium concentration over a 24-hour period.
• Calcium propionate is also a valuable substrate for glycogenesis.
• SELEKT CALPLUS  provides 14.6 g of magnesium. This covers the daily requirement of the down-calving cow, with some surplus for correction of hypomagnesaemia.
• Contains yeast to improve the rumen flora.
• SELEKT CALPLUS  contains no potassium or phosphorus, both of which have been shown to increase the risk of milk fever.
**Case of 12**
For best results, use with our Selekt Pump, Drencher, Collector as well as our popular mini drencher!